Each month I will offer at least 1 freebie.
These may be an IM stat, sigtag, adoptable or desktop wallpaper.
DECEMBER 2010 FREE SIGGIE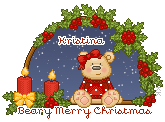 10/10 AVAILABLE
To request, please click the image below or you may send an email to kristineskreations@gmail.com with the subject line KK Monthly Freebie and place your Name and Email Address in the body.




Tubes/Lines used to make tags, stats and other pixel items are from one or more of the following sites
TTT, LPP, SS , TTT, PMD, VPA, BB, RPP, RBB, LPD, HE, PC, LP, LPT, PM